Apple Cinnamon Scones Recipe
Looking for a scrumptious treat for your afternoon tea party? Presenting the Apple Cinnamon Scones recipe just for you. The perfect blend of apple and cinnamon flavor in this scone recipe will instantly flood your taste buds, taking you on a journey of culinary delight.
We have curated this recipe using the freshest and finest ingredients to ensure that you enjoy the perfect scone – crisp and crunchy outside, soft and moist inside, and bursting with delicious apple and cinnamon flavor. Here is the recipe that you can try at home.
Ingredients
2 cups of flour
1/4 cup of sugar
2 teaspoons of baking powder
1/2 teaspoon of salt
1/2 cup of butter, diced
1/2 cup of chopped apple
1/2 teaspoon of cinnamon
2/3 cup of milk
1 egg
Directions
Preheat the oven to 400°F (200°C).
Mix the flour, sugar, baking powder, and salt together in a mixing bowl.
Add the butter and mix until the mixture resembles breadcrumbs.
Add the chopped apple and cinnamon, and mix thoroughly.
In a separate bowl, whisk together the milk and egg.
Pour the milk mixture into the flour mixture, and stir until the dough comes together.
Turn the dough onto a floured work surface and knead lightly.
Roll out the dough to 3/4 inch thickness and cut into rounds.
Place the scones onto a lined baking tray and bake for 15-20 minutes, until golden brown.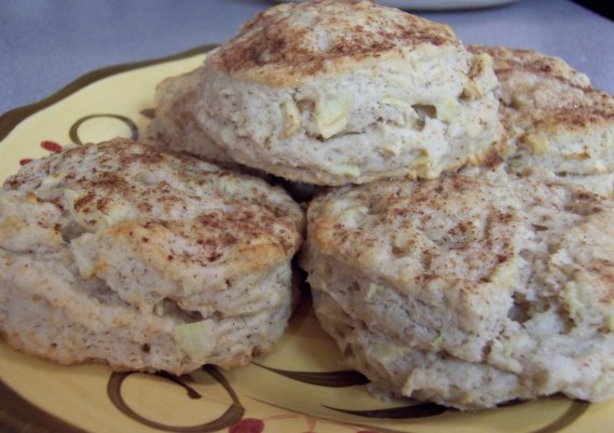 This Apple Cinnamon Scones recipe is perfect for any tea party or a lazy weekend morning breakfast. Dotted with chunks of juicy apples and swirled with the warm flavor of cinnamon, these scones make the ultimate treat to be savored with a cup of hot tea or coffee.
But wait, that's not all! We have more delicious treats to add to your culinary journey.
Snacks & Sweets
Are you in the mood for some more tasty treats? We have a range of irresistible snacks and sweets that are sure to satisfy your cravings. From classic chocolate brownies to scrumptious cinnamon rolls, there's something for everyone. Here are a few of our favorites:
Nacho Chips with Salsa and Cheese
Spinach Dip with Garlic Knots
Chocolate Brownies
Cinnamon Rolls
So, what are you waiting for? Go ahead and try out these amazing treats today and indulge in a culinary journey that's bound to delight your taste buds.